C4 Bosch Pump Installation 93 – 96 C4 LT1/LT4
Version 1.1 - Text and Photos (C)2002 by Tom Wong
Please Email all Questions to Tom Wong, not me. Thanks! Allen

---
Parts needed:
1)         Bosch High Pressure Pump 0-580-254-984
Rated at 44 GPH @ 90 PSI 750+ Hp This pump is identical to the Accel part number 74702 which they boast will handle 870 Hp!
<![if !supportEmptyParas]> <![endif]>
1)         90 deg JIC fitting with hose barb
1)         Accel Part number 74711 Fitting
1)         AC Delco fuel sender GSK P/N G1
1)         AC Delco pump strainer P/N TS17
1)         12" 3/8 Aeroquip AQP high pressure hose type FC332
1)         1" section of 1/2" Aeroquip AQP high pressure hose type FC332
1)         3/4" SS fuel hose clamp
2)         2.5" SS hose clamps
4)         3/8" SS Fuel injection style hose clamps
2)         16ga crimp eye connectors
1)         5mm nut, flat and lock washer
1)         7mm nut, flat and lock washer
<![if !supportEmptyParas]> <![endif]>
Remove the fuel door, remove fuel spill tray, remove hoses from sending unit, unplug sending unit wire harness, remove sending unit retainer bolts and remove sending unit.
Remove old pump, pulsation dampener and strainer assembly, cut old pump harness wire as close as you can to the factory connector at the pump end.
Measure 3.5" from the 90-degree bend just above where the pulsation dampener was connected and cut the tube. Gently break the two small flat metal braces away from the return line and the lower pump support with a pair of pliers or channel locks. They are just soldered from the factory so just a gentle twist or two will break it away.
Gently bend the existing fuel pump half round support to fit around the new pump. Take a 2-inch section of 3/8 fuel hose, split it down the middle, and place it around the return tube just above the half round support bracket. Install the short piece of 1/2" fuel hose onto the Bosch pump inlet; trim it even with the inlet tube. Install the new strainer onto this hose, use the 3/4" hose clamp around the strainer metal collar and tighten gently, it does not take much to hold it in place.
Place the pump onto the half round bracket; slide a 2.5" hose clamp over the pump and the half round bracket. Snug it in place, as you will have to move the pump a little later. Place the second clamp above the first clamp and around the return tube with the hose as a spacer and cushion. Orient as shown in the pictures. Make the bottom of the strainer in its relaxed state about even with the end of the return line. Orient as shown in the picture. Take the Accel fitting and drill it out with a 9/32 drill bit.
<![if !supportEmptyParas]> <![endif]>
Tighten the Accel fitting onto the discharge end of the pump. Make sure that there is an O Ring on the pump side of the fitting. Install the 90 degree JIC fitting onto the Accel fitting, gently bend the 3/8 sending unit tube to match the angle of the JIC fitting. Remove the fitting, install a piece of the 3/8" high pressure hose onto the hose barb long enough so that you can place 2 clamps onto the sending unit tube. Install the Aeroquip hose onto the 90-degree JIC fitting by lubing the fitting with 30wt engine oil or equivalent, push hose on until hits the fitting shoulder. This mechanical fit is good for 250 PSI so no clamp is necessary.
Strip the wires back, crimp the two small eye connectors onto the wiring and connect the wires to the fuel pump. It is best to have a good crimp connection here rather than a soldered joint. A soldered joint can break with vibration in time. Be sure to pay attention to connection polarity as its clearly casted onto the pump housing next to the connection points. Tighten the fitting and tighten the clamps, reinstall the sending unit and reconnect hoses and wire harness.
<![if !supportEmptyParas]> <![endif]>
<![if !vml]>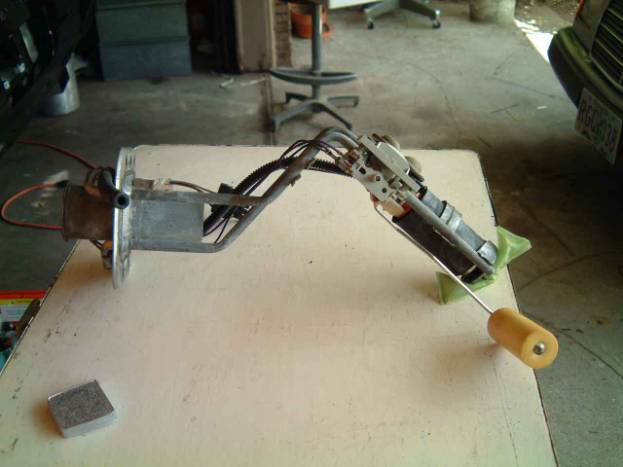 <![endif]>
<![if !vml]>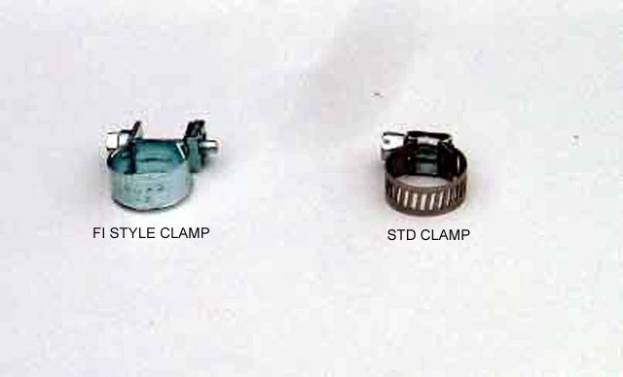 <![endif]><![if !vml]>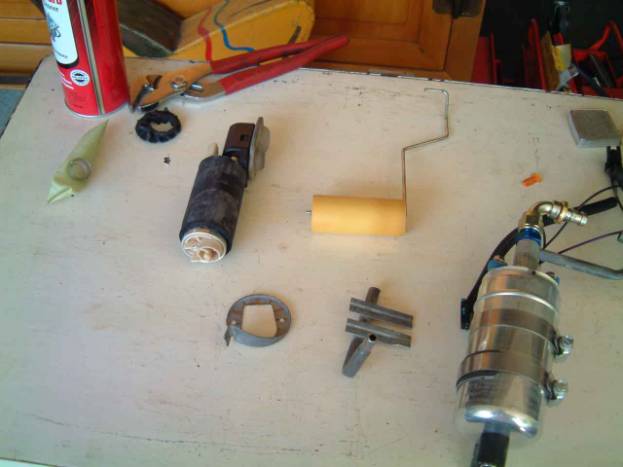 <![endif]><![if !vml]>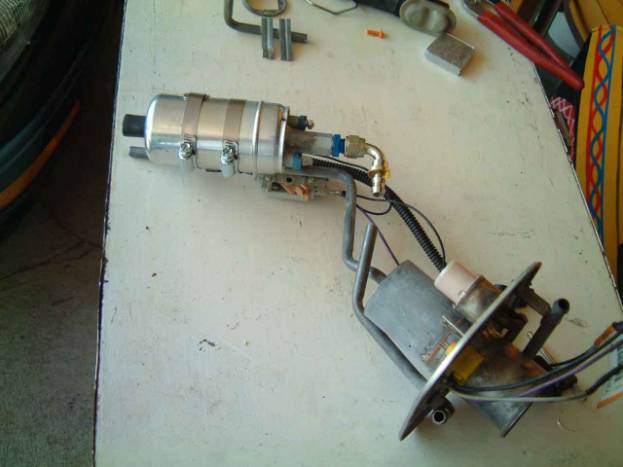 <![endif]>
<![if !vml]>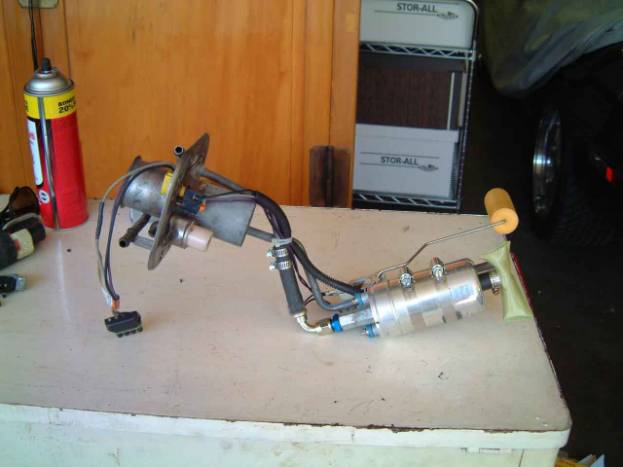 <![endif]>
<![if !supportEmptyParas]> <![endif]>
It is a tight fit but it works great for most all but the most radical engines. My application is a blown and stroked 396 CID LT4 engine rated at nearly 600 Hp. My original fuel pump set up was the stock pump plus a Vortech Engineering T-Rex pump as a booster. I had a relay failure which caused the Vortech pump to die, the factory pump was working and the engine ran, however under boost I had a severe lean out and blew my blower belt off which didn't really cause any damage but cost me nearly 4 hours of misery to replace the belt.
Below is a pump flow vs. pressure comparison chart. It compares fuel flows at various pressures between the Bosch pump and between three Walbro aftermarket pumps. As you can see there are some places where the Walbro flows the same or perhaps a bit better, however where the Bosch pump shines is at the higher pressure ranges when my engine is under boost and additional fuel is needed.
<![if !supportEmptyParas]> <![endif]>
One drawback is that this is a roller vane style pump versus the factory style gear rotor pumps. So what this means is that it makes more noise (whines) but so far for me its not perceivable over the exhaust note of my 3 inch exhaust system.
<![if !supportEmptyParas]> <![endif]>
There are various ratings for this pump. I can't tell you which one is most accurate. I do know that many people through out the performance groups be it rice burners or Corvettes that swear by this pump. At WOT throttle in my car my fuel pressure never dips below 70 PSI and there is not a hint of starvation. I have a FMU that adds fuel pressure under boost hence the 70-PSI reading.
<![if !supportEmptyParas]> <![endif]>
Pressure
(psi)

190 ltr/hr pump
(gal/hr)

255 ltr/hr pump
(gal/hr)

"high pressure"
255 ltr/hr pump

Bosch GFP216
(0 580 254 984)

0

56

75

75

68

10

52

72

72

64.

20

48

68

68

63

30

44

64

64

58

40

40

59

60

56

50

36

55

56

54

60

32

50

52

52

70

28

39

49

50

80

22

26

44

46

90

12

7

37

44

100

1

27

41

110

13

38
<![if !supportEmptyParas]> <![endif]>
<![if !supportEmptyParas]> <![endif]>
It is very important to use the Aeroquip AQP hose. I stated the part number for their industrial line of hose, which uses the AQP compound. That hose is special duty for fuel and uses the same compound of rubber on both the inside and outside jackets. Normal fuel hose found at your local NAPA dealer will not work in submerged conditions as their hose uses a different compound for a outer jacket and it will dissolve inside your tank in time. Also note the addition of Fuel Injection style hose clamps. FI clamps will not "bite" into the hose, as shown in the pictures you can see the obvious design difference. My installation pictures show common hose clamps installed, but I have since changed them to the FI style clamps.
<![if !supportEmptyParas]> <![endif]>
This installation won't cure the high G turn stumble that I have heard about in C4 cars. I have personally never experienced it myself. I have heard of solutions from a guy named Paul Casalas of Super Car Engineering, which is marketed thru his speed shop called Speed Merchants. It's an accumulator affair with an additional pump. I don't know much about it; some have used it and swear by it as a cure for the stumble problem in turns.
<![if !supportEmptyParas]> <![endif]>
Buy the pump from your local BOSCH distributor, or Import auto parts store. I got it at a distributor through my friends shop for $139. If you buy the Accel from LPE or even from Summit Racing they will both burn you for $269!!! Fast Track Performance in Ferndale California sells this pump on the Internet for $150 and you get the 6AN fitting with the pump or if I remember right for $20. I had to buy the Accel fitting and they got me for $33! Fast Track sells the same fitting for $20. I hope this helps some one out there someday.........
<![if !supportEmptyParas]> <![endif]>
http://www.fasttrackperformance.com
http://www.aeroquip.com
<![if !supportEmptyParas]> <![endif]>
Tom Wong
95 ZO7 Coupe
Blown and Stroked 396 CID LT4
<![if !supportEmptyParas]> <![endif]>
<![if !supportEmptyParas]> <![endif]>